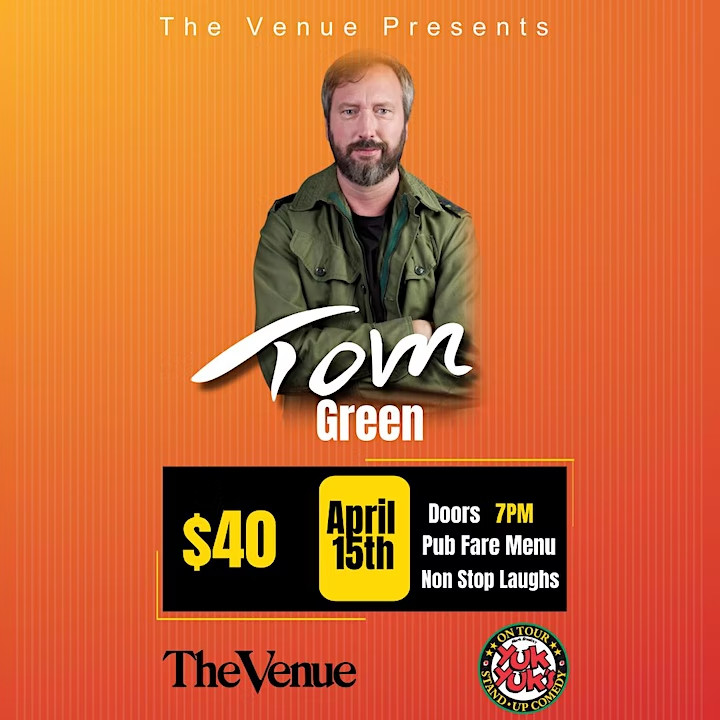 Tom Green Live!
The Venue is very pleased to present Tom Green Live!
Date: Saturday, April 15th – 7:00PM
Tickets: $40 + tax/fees – $49.46
About Tom Green
Canadian-American comedian, show host, actor, filmmaker, podcaster, and rapper. After pursuing stand-up comedy and music as a young adult, Green created and hosted The Tom Green Show, which aired on Canadian television and later on MTV between 1994 and 2000.  The show became popular for its shock comedy, absurdist pranks and Green's manic persona, and influenced later series such as Jackass and The Eric Andre Show. Green has also appeared in the Hollywood films Road Trip (2000), Charlie's Angels (2000), Stealing Harvard (2002), and Shred (2008). Green additionally directed, co-wrote and starred in the cult film Freddy Got Fingered (2001).  He was briefly married to actress Drew Barrymore (2001–2002), who co-starred with him in Charlie's Angels and Freddy Got Fingered.
In 2003, Green hosted the short-lived MTV late-night talk show titled The New Tom Green Show. From 2006 until 2011, he hosted an internet talk show, Tom Green's House Tonight, from his home, and returned to performing stand-up comedy in 2010. From October 2013 to November 2014, Green hosted the weekly talk show Tom Green Live on American cable network AXS TV.
$49.46